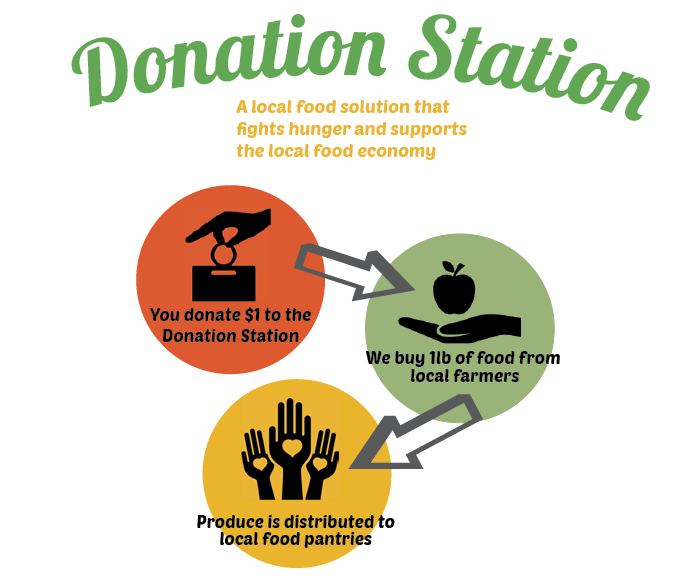 What is the Donation Station?
---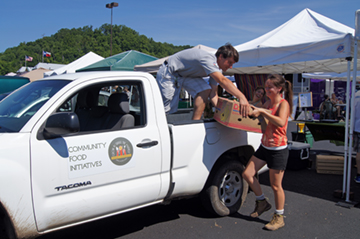 In 2007, we piloted a program that grew with the support of local farmers and community members into what we now call the Donation Station. 
The Donation Station addresses the most immediate food security issue -- access to healthy fresh foods for all.  
We receive both food and monetary donations each week at local farmers markets and produce auctions from customers, vendors, and local community gardeners.  The monetary donations are used to purchase fresh foods from the market and auction vendors.
This unique program addresses poverty and food insecurity issues while supporting the growth of the local food economy.
Donation Station Schedule
---
The Athens Mall
1000 E State St, Athens, OH 45701
In The Parking Lot And/Or Inside the Mall
Saturdays | 9am – 12pm | All Year
Wednesdays | 9am – 1pm | April – December
 
8380 Wagoner Rd, Chesterhill, OH 43728
Mondays and Thursdays | 4pm | May – October
Help Us Reach Our Goal in 2018
---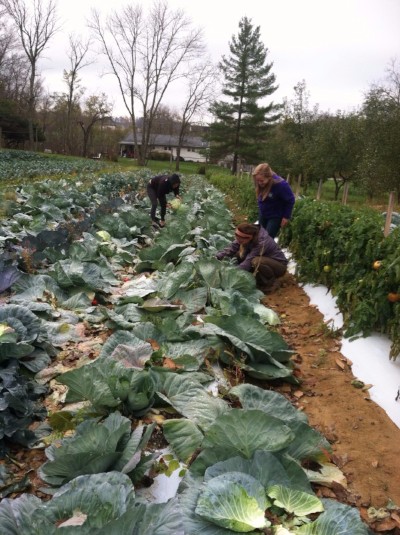 In 2017, 90,000 pounds of produce and local food products were distributed to food pantries and agencies in Appalachia Ohio. In 2018, our goal is to get 95,000 pounds in donated food to the tables of our friends and neighbors in need. We aspire to expand our reach into Hocking and Perry County. 
Grow a Row
Help us reach our goal of making fresh, healthy, local produce available to everyone by donating extra produce items or spare change when you can. The reward of knowing that you contributed to 90,000 pounds of generosity will warm your heart. Look for our booth or sign up to Grow a Row on the following form to receive a free garden sign: http://communityfoodinitiatives.org/what-you-can-do/grow-a-row.html
The Harvest Hotline
The Harvest Hotline is a service for farmers who have excess crops in their fields and would like to donate them to our Donation Station. Whatever the reason for your extra produce, let us volunteer to do some harvesting and gleaning for a good cause.
Don't let food go to waste! In the past, the Harvest Hotline alone has contributed to over 5,000 pounds of food in a single year to the Donation Station. Leftovers add up!
Anyone can take advantage of the Harvest Hotline, all year round. You may notice that the Harvest "Hotline" is the same number as the CFI Office number, at 740.593.5971. Call in and we'll schedule volunteers to come and pick up some food!
Replicate a Donation Station in Your Community
Want a Donation Station in your community?  Click here to find out how CFI can help you start a Donation Station where you live.
How to Utilize Donation Station Services
---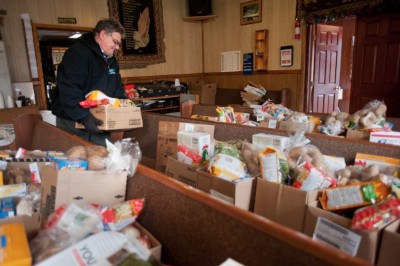 If you are looking for a food pantry or other resources near you, click here.
If you are looking for free meals near you, click here.
If you are a food pantry or a social service agency looking to collect donations from CFI, get in touch with us! We will ask that you fill out a contact form outlining roughly how many people you serve, when you distribute food, and if you would be interested in hosting Discovery Kitchen events. Within a few weeks, we will come out to inspect your site to verify you as one of our distributors.
Discovery Kitchen
---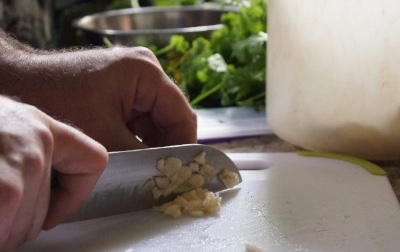 Discovery Kitchen plays a key role in the success of the Donation Station program. We offer healthy cooking classes to food pantry patrons and agency clients using local seasonal ingredients, as well as tastings of samples to the general public to promote healthy cooking.
CFI finds that people build confidence in increasing their fresh produce consumption if they have a little help and encouragement, so Discovery Kitchen offers easy how-to's, recipes, and tasty samples to help inspire increased confidence in the kitchen! We want to help make sure that the food our community works to donate gets put to use in tasty, healthy meals.
If you are a food pantry or agency coordinator or you know someone who whose mission could benefit from Discovery Kitchen, contact us to see how we can be of service to you!